Massage
We are SO EXCITED to be offering massage therapy at Shell Plastic Surgery and Shell Laser MedSpa! We offer everything from Relaxation and Spot-Targeting Massage to Prenatal Massage and Cupping Therapy. Our Massage Therapist, Nay Omori, is well known in the Oxford community.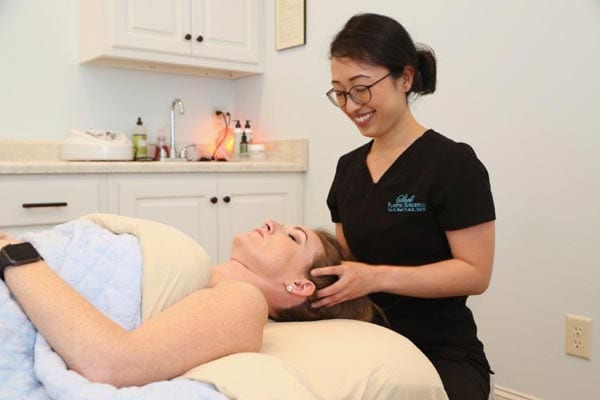 NAYUSA N OMORI
LMT #2017
If you don't know Nay, she is an Oxford native and an Ole Miss graduate. She received her MT education at Cortiva Institute- Florida and has been a therapist since 2011. She loves working as a massage therapist because it allows her to connect with people by helping their physical and emotional health. Nay's clients are encouraged to be active participants in the healing process by customizing their treatment. Massage is rest and recovery for the mind and body. Come into her treatment room and power down for a while. LMT#2017
Nay wants to thank everyone for all of your support over the years. Call us at 662-236-6465 to schedule your appointment today!
RELAXATION MASSAGE
This classic, light to medium pressure massage is designed to help your body and mind unwind using varied strokes to increase circulation and melt stress away.
60 minutes – $90
90 minutes – $115
THERAPEUTIC MASSAGE
A focused and individualized massage that can be either full body or targeting specific areas using a medium to deep pressure. Therapy can be customized to the average spa-goer looking for some pain relief along with relaxation.
60 minutes – $100
90 minutes – $125
SHELL SIGNATURE MASSAGE
Indulge in this deeply relaxing full body massage that will nourish your body and soul. Enjoy a heated stone treatment on your calves and feet to further enhance your experience.
90 minutes – $125
120 minutes – $150
PRENATAL MASSAGE
A massage designed to focus on the needs of the expectant mother and help better adjust to the changes due to pregnancy.
75 minutes – $110
MASSAGE CUPPING THERAPY
Massage cupping is a modern form of an ancient technique. This deeply therapeutic treatment combines manual massage with the cups to soften tight muscles, lift and release connective tissue and increase circulation.
90 minutes – $145
NECK, SHOULDER & BACK MASSAGE
Targets specific areas of the body to help you relax away discomfort where you need it the most.
35 minutes – $65
MASSAGE ADD-ON SERVICES
Scalp Treatment: 15 minutes – $15
Foot Scrub: 20 minutes – $20
Massage Etiquette And Frequently Asked Questions
Dress code

The client should undress to their comfort level. Some people prefer to undress completely, while others prefer to wear their undergarments. Whatever your comfort, you will be undressing in the privacy of the massage room. Our policy is that the client will be draped accordingly for the duration of the session.

Appointments

If you are a new client, please arrive at least 10-15min before your appointment time to fill out an intake form. Our therapist will discuss your massage for every treatment, every time, and follow up on health history. Please understand that the therapist is on a schedule and if you are running behind, she may not be able to accommodate your full massage time. If you are running late or need to cancel, please let us know as soon as possible.

Is there a circumstance or injury where massage could make things worse?

Yes. If you are under a doctor's supervision, please follow up with them to make sure massage is not contraindicated. An acute injury, an open wound, and fever are a few situations where a client should reschedule their appointment. Also, if you are just getting over a cold or feel a cold coming on, please go ahead and reschedule.

Do I have to talk to my massage therapist?

It is completely up to the client. This is your time so if talking helps you relax, please do so. If you want a quiet space, then that is what you'll have. The therapist will follow your lead.

However, it is important to communicate with your therapist when it comes to comfort. Please let the therapist know if you'd like more or less pressure.

Is it rude to fall asleep during a massage?

No! It is very common for a client to fall asleep during a service.