Massage Therapy in Oxford, MS
Massage therapy is an ancient healing technique and—to this day—is one of the most popular forms of self-care. With the help of Nay Omori, our licensed massage therapist, patients can receive a relaxing and personal approach to massage therapy that is perfectly suited for their needs.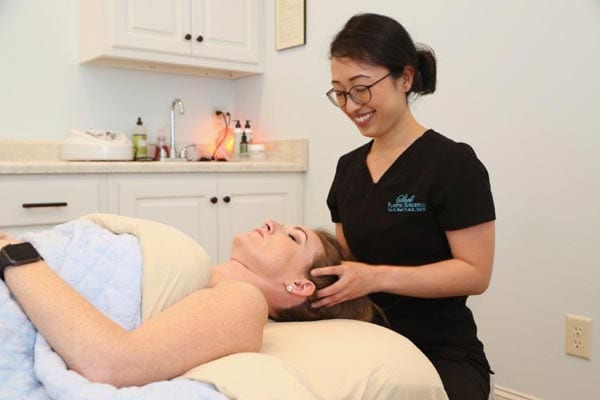 What Should I Expect From My Massage Therapist?
NAYUSA N OMORI
Nay is an Oxford native and a graduate of the University of Mississippi. She received her MT education at Cortiva Institute – Florida and has been a therapist for over a decade. Nay's love for massage therapy comes from her passion for connecting with others. By customizing their treatment, each client is encouraged to be an active participant in their physical and emotional healing.
Is Massage Therapy Right for Me?
A professional massage can reduce stress in the mind and body. Nearly everyone is invited to receive a therapeutic massage. If you have experienced stress, anxiety, or pain, you may be a good candidate for a professional massage. Please note: if you are under medical care, it is always encouraged to talk to your primary caregiver to make sure massage is not contraindicated.
Massage therapy is also ideal for clients who desire:
Longer and more restful sleep
Less chronic pain
Reduced muscle tension
Improved circulation
Increased range of motion
What Types of Massage Modalities Do You Offer? 
Your therapist can use a wide selection of massage techniques to provide the best experience possible. Speak with our medical spa team to find the right massage for your needs, or browse our selection below: 
What Is a Relaxation Massage?
The relaxation massage is a classic, light to medium pressure massage designed to help your body and mind unwind.
Melt away tension and improve circulation throughout your body.
How Much Does a Relaxation Massage Cost?
60 minutes – $90
90 minutes – $115
What Is a Therapeutic Massage?
Therapeutic massages can be personalized for the average spa-goer or someone new to massage therapy. Target the entire body or precise areas with medium to deep pressure.
How Much Does a Therapeutic Massage Cost?
60 minutes – $100
90 minutes – $125
What Is a Shell Signature Massage?
The Shell Signature Massage is a deeply calming full-body massage that will make your body and soul feel renewed. A scalp massage and a heated stone treatment will be applied to your calves and feet to further enhance this relaxing experience.
How Much Does a Shell Signature Massage Cost?
90 minutes – $125
120 minutes – $150
What Is a Prenatal Massage?
A prenatal massage is essential for expectant mothers. This massage will focus on the needs of your changing body and help you better adjust to future stages in your journey. Please note: if you have any questions or complications in getting a massage during any stage of pregnancy, please discuss these with your doctor. 
How Much Does a Prenatal Massage Cost?
What Is Massage Cupping Therapy?
Massage cupping is an ancient technique brought into the 21st century. A manual massage is combined with suction cups that loosen tight muscles for a deeply therapeutic treatment. The cups will also lift and release connective tissue, increase circulation, and remove tension throughout the body. 
How Much Does Massage Cupping Cost?
What Is Neck, Shoulder & Back Massage?
A neck, shoulder, and back massage will address these specific areas of the body to help you soothe discomfort where it is most desired. 
How Much Does Neck, Shoulder & Back Massage Cost?
What Massage Add-on Services Are Available?
Scalp Treatment: 15 minutes – $15 
Foot Scrub: 20 minutes – $20
Frequently Asked Questions About Massage Therapy
Is it rude to fall asleep during massage therapy?

It is not rude to fall asleep during a massage. Falling asleep is a good sign that stress is leaving your body, and it is a common occurrence.

Do I have to have to make conversation with my massage therapist?

Speaking to your massage therapist is entirely up to you. A massage is your personal time to relax and do what comes naturally to you. The therapist will provide a completely quiet environment if that is what you desire. 

How can I prepare for my massage therapy appointment?

Patients can prepare for their massage by arriving 10 to 15 minutes early for their appointment. This will give you time to complete your intake forms and speak with your therapist about your massage, medical history, and major concerns. 

Please contact our office if you are late or need to cancel. Your therapist may not be able to accommodate your full massage time if you miss your start time.

Is there a massage dress code?

There is no dress code for your massage. You will be able to wear (or not wear) whatever is most comfortable to you; however, our policy is that our clients remain draped for the duration of the session.

What other services does the med spa provide besides massage therapy?

Depending on your med spa treatment plan, you can choose to include your massage therapy with facial services, skin care services, and more.