Skin Cancer Reconstruction in Oxford, MS

Skin cancer is the most common form of cancer in the United States, and, as with other forms of cancer, surgical intervention may be necessary to remove the cancerous growth.
Men and women struggling with certain kinds of skin cancer can turn to board-certified plastic surgeon Dr. Dan Shell for skin cancer removal and reconstructive surgery.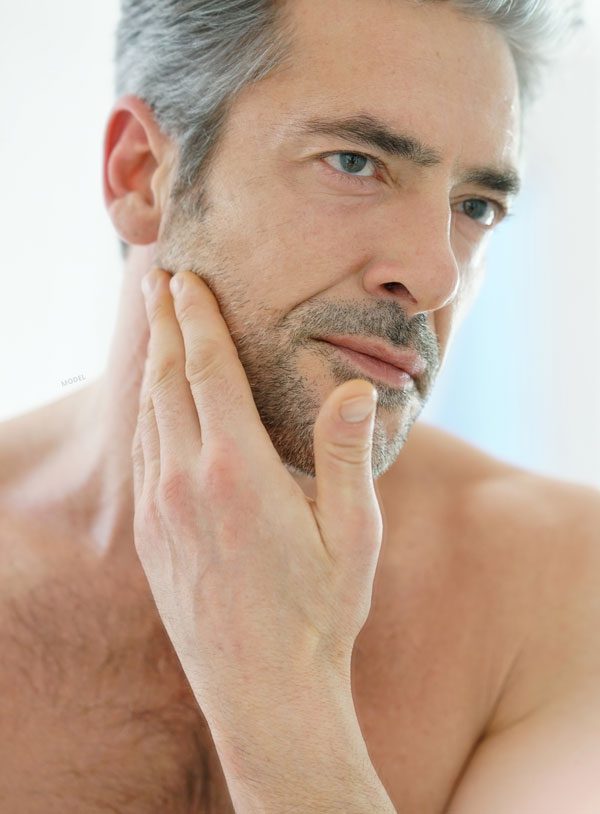 Am I a Candidate for Skin Cancer Reconstruction Surgery?
If you have been diagnosed with skin cancer, you may be a potential candidate for surgery. Skin cancer surgery may be able to treat:
Melanoma
Basal cell carcinoma
Irregular moles
Other types of skin cancer
Although skin cancer can occur anywhere on the body, it appears most often on the face, head, or neck regions. Following a thorough examination, along with a discussion of your medical history, Dr. Shell will be able to determine if skin cancer reconstruction is the best option for you.
Does insurance cover skin cancer reconstruction?
The cost of skin cancer reconstruction depends on the size of the cancer and the amount of tissue and skin being removed. Additionally, skin cancer reconstruction surgery cost depends on the surgical techniques used. You should contact your insurance company to determine if some of your skin reconstruction cost is covered in your plan.
During your consultation with Dr. Shell, you will receive a financial estimate.
How Is Skin Cancer Reconstruction Performed?
General or local anesthesia will be administered before surgery. Various removal techniques may be implemented, depending on the size, type, and location of your lesion.
A small or contained lesion may be removed through excision (removal by cutting) and closing the incisions using stitches. More invasive removal techniques may require reconstructive surgery, such as skin grafting, local tissue rearrangement, or the use of tissue from an adjacent area (flap reconstruction).
During surgery, the cancer cells and margins are removed. All samples will be sent out for a biopsy.
What Is Recovery Like After Skin Cancer Reconstruction?
Your recovery process will heavily depend on the extent of your surgery. Dr. Shell will provide you with personalized postoperative care instructions.
It is common for patients to experience some swelling and discomfort in the treatment area for several days. Incision sites may be sore, red, or drain small amounts of fluid. Sutures are typically removed within a week; however, healing will continue for several months, and incision scars will begin to heal and fade.
What Results Can I Expect After Skin Cancer Reconstruction? 
After skin cancer reconstruction surgery, you should expect all your current cancer cells to be removed. Skin will be reconstructed to look as natural as possible through skin grafts or other reconstructive techniques. 
Frequently Asked Questions About Skin Cancer Reconstruction?
Can skin cancer come back after skin cancer surgery?

Following treatment, there is a chance that you may develop skin cancer in the future. If skin cancer does come back, it may occur in the same place, nearby, or in another region of your body.

The best way to prevent a recurrence is to protect yourself from the sun. Adhering to safe sun practices such as applying a daily sunscreen and wearing clothing to cover exposed areas of your skin can reduce your risk of recurrence. Those at high risk for skin cancer should also see their doctor every year to check for skin cancer.

Why should I choose Dr. Shell for skin cancer surgery?

During your consultation, Dr. Shell will listen carefully to your concerns, ensuring that all treatments are customized to meet your goals. His practice uses the latest technology in a comfortable and confidential setting. Dr. Shell is certified by the American Board of Plastic Surgery and the American Board of Surgery. He is also a member of the American Society of Plastic Surgeons and a Fellow of the American College of Surgeons.

What are some of the risks associated with skin cancer surgery?

As with any surgical procedure, there are inherent risks associated with skin cancer surgery. Some risks may include infection, scarring, excessive bleeding, wound dehiscence, seromas, nerve dysfunction, and hematoma. Dr. Shell and his staff will discuss these risks in detail with you before surgery.
Interested in Learning More?
If you are interested in learning more about how you can benefit from skin cancer reconstruction or any other reconstructive procedures in Oxford, Mississippi, schedule a consultation with Dr. Shell by calling (662) 236-6465 or filling out our online contact form.