VOLUMIZING FACIAL FILLER IN OXFORD
It happens to all of us as we get older—our cheeks begin to sink in, our skin starts to sag, and our face loses volume. Sun damage, genetics, and the natural aging process all cause a breakdown of collagen and skin elasticity, leaving you with an aged appearance. Voluma is one of the newest dermal fillers, designed to help restore lost volume in the cheeks and provide you with a non-surgical lifting effect.
IS VOLUMA RIGHT FOR ME?
Voluma® is made by the same company who created Juvéderm, one of the most popular fillers available today. Like Juvéderm, Voluma is made from hyaluronic acid, a substance that is naturally found in youthful skin. Hyaluronic acid is gradually lost with age, which can lead to facial hollows and gaunt contours.
Voluma works to restore facial volume using this hyaluronic acid gel. Unlike other fillers, Voluma can be used for more than just filling in wrinkles and folds. When injected into the cheeks, Voluma can provide you with fuller, more youthful contours and can even achieve a subtle lift. Voluma can also be used around the chin and jawline to help improve the appearance of sagging skin or minor jowls.
Because there is no surgery involved, Voluma is an attractive option for many men and women who want to put a stop to the signs of aging. Voluma can be combined with other non-surgical injectables or fillers to achieve a fuller rejuvenation of the face. Oxford plastic surgeon Dr. Shell will work with you to develop your own personalized Voluma treatment plan.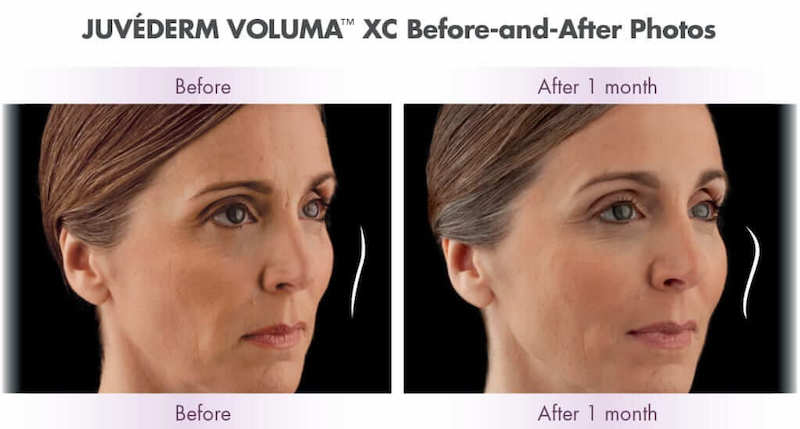 Before and afters provided by Allergan.
VOLUMA RESULTS AND RECOVERY
Your Voluma treatment with Dr. Shell will take less than an hour to complete, and you can get back to your daily routine immediately. Most patients experience no downtime, although minor side effects such as bruising, redness, or sensitivity may occur. Because hyaluronic acid is naturally found in your body, there is little risk of an allergic reaction.
You will notice an immediate improvement in the shape and contours of your face. Voluma is designed to be extremely long-lasting. Patients have experienced the youthful benefits of a single Voluma treatment for up to two full years. Voluma is a great alternative for patients who are considering plastic surgery, but do not feel it is necessary at their current age.
WHY SHOULD I CHOOSE DR. SHELL FOR Cheek Augmentation?
During your consultation, Dr. Shell will listen carefully to your concerns, ensuring that all treatments are customized to meet your goals. He uses the latest technology in a comfortable and confidential setting. Dr. Shell is certified by The American Board of Plastic Surgery. He is also a member of The American Society of Plastic Surgeons, The American Society of Aesthetic Plastic Surgery, and is a Fellow of the American College of Surgeons.
SCHEDULE YOUR CONSULTATION
Are you interested in learning more about Voluma in Mississippi? Dr. Dan Shell is a board certified plastic surgeon with an office in Northern Mississippi. Contact us at 662-236-6465 to set up a consultation for Voluma treatments today.