HydraFacial® in Oxford, MS
Our skin can be damaged in various ways, from sun damage to acne to natural aging. Only a healthy skincare routine supplemented with professional facials can ensure your skin stays in its optimal condition.
The HydraFacial® MD allows people to garner dramatic results and reduce a wide variety of skin problems. The HydraFacial® MD is different from a standard facial as it uses a unique, patented vortex-fusion delivery system to exfoliate, extract, and hydrate skin—and the spiral design delivers painless extractions.
Am I a Candidate for a HydraFacial® MD?
Any skin type can benefit from the results of a HydraFacial® MD treatment. And, it's never too early to start taking care of your skin. Whether you are a young adult, middle-aged, or a senior, HydraFacial® MD can help you see skin improvements like never before.
Individuals interested in the HydraFacial® MD treatment should have realistic expectations around the outcomes. While the treatment can provide improvements for existing skin problems, it cannot reverse the effects of aging.
How Is the HydraFacial® MD Performed?
There are three critical factors to skin health: hydration, tone and texture, and pores. The HydraFacial® MD addresses all of these determinants in a straightforward treatment.
The HydraFacial® MD machine relies on patented technology to deliver fantastic results. The spiral design of the HydraPeel® tip is used in conjunction with the HydraFacial® MD proprietary vacuum technology and serums to create a vortex effect that easily dislodges and removes impurities while simultaneously delivering hydrating skin solutions.
The procedure combines the HydraFacial® MD machine and HydraFacial® MD serums in three simple steps:
Cleanses and peels to uncover a new layer of skin
Extracts debris from the pores while moisturizing the skin
Fuses and protects the skin with antioxidants and peptides to maximize your glow
The procedure is performed by our licensed aestheticians and usually takes around 45 minutes. The HydraFacial® MD is painless but is well worth the time and effort. Individuals can return to work or their daily activities immediately after the procedure.
What Is the HydraFacial® MD Recovery Like?
As the procedure is non-invasive, there is virtually no recovery time. However, patients will have an incredibly clean and exposed face post-facial. As a result, it is generally recommended not to wear makeup for the rest of the day. Additionally, you will want to avoid direct sunlight exposure for one to two days after receiving the HydraFacial® MD treatment.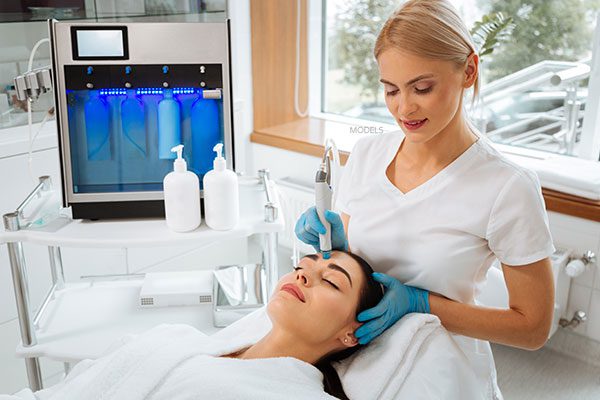 What Results Can I Expect From HydraFacial® MD?
HydraFacial® MD's technology can help to deliver results for:
Fine lines and wrinkles
Elasticity and firmness
Even tone and vibrancy
Skin texture
Brown spots and sun spots
Oily and congested skin
Enlarged pores
You can request a consultation at Shell Plastic Surgery to better understand how the HydraFacial® MD will address your particular skin concerns.
Interested in HydraFacial® in Oxford, MS?
If you are ready to give your skin the treatment it deserves, book a HydraFacial® MD consultation with us. Your skin will thank you for it!
Book a consultation by calling (662) 236-6465 or filling out this online form.