BOTOX® Cosmetic
BOTOX® Cosmetic is a popular cosmetic procedure that helps smooth out facial wrinkles without the need for surgery or abrasive skin resurfacing. If you are concerned about age-related wrinkles on the forehead, the perimeter of the mouth, or the eyes, you may want to consider this treatment for a more youthful appearance.
Am I a Candidate for BOTOX® Cosmetic?
Candidates for BOTOX® Cosmetic are seeking to treat dynamic wrinkles caused by muscle contractions, such as crow's feet, forehead lines, frown lines, and glabellar lines. Patients with hyperhidrosis (intense sweating) or migraines can also benefit from BOTOX® injections.
Older patients should consult with their doctor to ensure that their skin is elastic enough to respond to the treatment. As with most cosmetic treatments, candidates should have realistic expectations of the procedure's outcome and be in overall good health.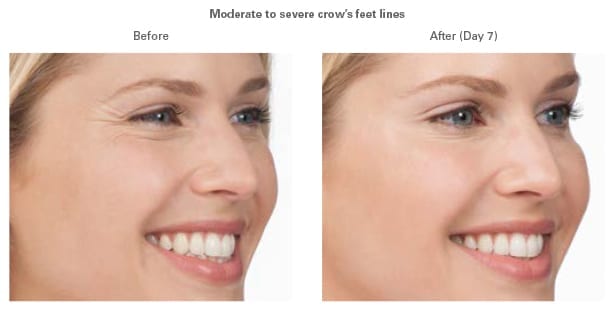 Before and afters provided by Allergan.
How Is BOTOX® Cosmetic Done?
Before your treatment, Dr. Shell will determine which areas require treatment and use a topical anesthetic to numb them.
A thin needle is used to skillfully inject tiny amounts of BOTOX® Cosmetic beneath the skin's surface. Once injected, the neurotoxin will block the transmission of nerve signals in the muscles of the treated area, making wrinkles relax and soften. Most patients experience a pinching-like sensation during the treatment session, which only takes a few minutes. The injections need to be placed correctly for the best results.
During your consultation, Dr. Shell will listen carefully to your concerns and cosmetic goals, making sure that it is the right procedure for you.
Is There Downtime After BOTOX®Cosmetic?
No downtime is associated with BOTOX® Cosmetic, and patients can resume their normal daily activities immediately.
Dr. Shell will advise you to stay upright for four hours after the injection and take a day off exercise and strenuous activity.
The most common side effects of the treatment include some temporary localized swelling, redness, and bruising at the injection site. These should only last a few hours.
What Results Can I Expect From BOTOX® Cosmetic?
Following your treatment, the results may not be apparent immediately. The effects will be noticeable in about three to seven days, with the final results showing in around two weeks.
Unfortunately, there is nothing a person can do to stop the aging process completely. As such, BOTOX® Cosmetic is not a permanent solution for signs of aging. You will enjoy positive results that last for up to four months, and then your wrinkles will gradually return to their pretreatment state.
To maintain results, you will need to schedule subsequent follow-up appointments with Dr. Shell. During your maintenance treatment sessions, he may adjust your BOTOX® Cosmetic dosage to achieve the most optimal results for you.
Frequently Asked Questions About BOTOX® Cosmetic
There are numerous factors to consider before committing to any cosmetic treatment. Below is a list of frequently asked questions associated with Botox:
---
Is BOTOX® Cosmetic an ideal treatment for men?

BOTOX® Cosmetic is a popular cosmetic procedure used for both men and women. Many men choose BOTOX® Cosmetic because it is a discreet, non-invasive way to reduce visible signs of aging. To combat early signs of aging, most men start their BOTOX® Cosmetic treatments in their mid-30s.

Why should I choose Dr. Shell for my BOTOX® Cosmetic?

During your consultation, Dr. Shell will listen carefully to your concerns, ensuring that all treatments are customized to meet your goals. His practice uses the latest technology in a comfortable and confidential setting. Dr. Shell is certified by the American Board of Plastic Surgery and the American Board of Surgery. He is also a member of the American Society of Plastic Surgeons and a Fellow of the American College of Surgeons.
Interested in BOTOX® Cosmetic in Oxford, MS?
Are you looking to treat your facial wrinkles with BOTOX® Cosmetic? The best way to determine if you are a good candidate for the treatment is to schedule a consultation with an experienced, board-certified plastic surgeon like Dr. Shell.
Contact us at 662-236-6465 or fill our online form to schedule a consultation today.