BOTOX® Cosmetic
A purified form of botulinum toxin, BOTOX® Cosmetic is the most popular minimally invasive anti-aging treatment in North America.
Botox is frequently used to reduce wrinkles caused by aging and weathering, as well as for medical indications such as facial spasms and other abnormal muscle contractions common in neurological disorders.
At his Northern Mississippi plastic surgery office, Dr. Dan Shell routinely performs Botox treatments for men and women seeking facial rejuvenation. With the help of Botox, Dr. Shell can significantly reduce the appearance of fine lines and wrinkles on the forehead, between the eyebrows, and around the eyes.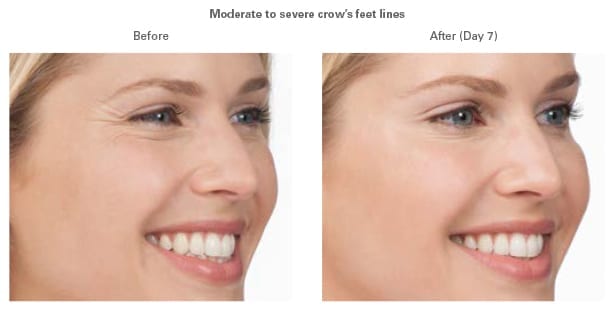 Before and afters provided by Allergan.
WHO IS THE RIGHT CANDIDATE FOR BOTOX?
The best candidates for Botox treatments will be people motivated to improve their appearance. You may want to consider Botox if you have:
Crow's feet
Forehead lines
Glabellar lines
Hyperhydrosis ( excessive sweating)
Botox can also be used therapeutically for treating abnormal muscle contractions related to neurological disorders. During your consultation with Dr. Shell, he will be able to determine if Botox is the best treatment available for your cosmetic goals.
FAQ
There are numerous factors to consider before committing to any cosmetic treatment. Below is a list of frequently asked questions associated with Botox:
---
How does Botox work?

Prior to treatment, you will sit down with Dr. Shell to determine which areas require treatment. The areas will be numbed with a topical anesthetic. Dr. Shell will then use a fine needle to inject Botox beneath the surface of your skin. Once injected, the neurotoxin in Botox will block the transmission of nerve impulses in the muscles of the treated area, resulting in a smoother, more relaxed appearance.

What can I expect during recovery?

There is no downtime associated with Botox, so you will be able to resume all normal activities immediately with the exception of exercising. Dr Shell asks that patients refrain from exercise for the rest of the day after Botox injections. During your recovery, you may experience some temporary localized swelling, bruising or redness at the injection site. Results will become apparent gradually over several days, with final results visible after two weeks.

Are the results permanent?

Botox is not a permanent solution for signs of aging. Results will last for up to four months, and then your wrinkles will gradually return back to their pretreatment state. In order to maintain results, you will need to schedule regular follow-up appointments with Dr. Shell.

Is Botox an ideal treatment for men?

Botox is a popular cosmetic procedure that can be used for both men and women. Many men choose Botox because it is a discreet, non-invasive way to reduce visible signs of aging. To combat the earliest signs of aging, most men begin Botox treatments in their mid-30s.

Why should I choose Dr. Shell for Botox?

During your consultation, Dr. Shell will listen carefully to your concerns, ensuring that all treatments are customized to meet your goals. His practice uses the latest technology in a comfortable and confidential setting. Dr. Shell is certified by The American Board of Plastic Surgery and The American Board of Surgery. He is also a member of The American Society of Plastic Surgeons as well as a Fellow of the American College of Surgeons.
SCHEDULE YOUR CONSULTATION
Are you interested in learning more about Botox in Northern Mississippi? Dr. Dan Shell is a board certified plastic surgeon with an office in Oxford, Mississippi serving the surrounding areas of North Mississippi, Germantown and Memphis. Email us or call 662-236-6465 to set up a consultation for Botox treatments today.