CoolSculpting® in Oxford, MS
Many individuals have trouble with fatty pockets throughout their body that are resistant to diet and exercise. CoolSculpting® is a safe and effective non-surgical treatment that targets and eliminates stubborn subcutaneous fat deposits to reveal a slimmer, more defined physique. 
CoolSculpting® is a versatile treatment designed to remove fatty deposits from the abdomen, arms, hips, thighs, knees, buttocks, and chin through a controlled cooling process known as cryolipolysis. No matter the aesthetic obstacles and the cosmetic issues you may face, the experts at Shell Plastic Surgery are sure to devise an effective strategy to transform and enhance your unique body contours.
Shell Plastic Surgery offers CoolSculpting® to women and men in North Mississippi.
Am I a Candidate for CoolSculpting®?
There are two different types of fat. Visceral fat surrounds the organs and is often lost with diet and exercise. Subcutaneous fat is the stubborn layer of cells that sits just beneath the skin. Unfortunately, this type of fat is not always easy to lose naturally. CoolSculpting® candidates are those who are looking to minimize their subcutaneous fat deposits.
Many CoolSculpting® candidates are women and men who have accumulated fat due to pregnancy, age, poor lifestyle habits, or genetics. CoolSculpting® can be performed on women who desire to resculpt their body shape after pregnancy or significant weight loss, while men typically want to reconfigure a more athletic midsection.
Ideal candidates for CoolSculpting® should also be in good overall health, have no underlying conditions, and be near their goal weight. It is also recommended that women consider waiting for their CoolSculpting® until after they have had all their children. Childbirth can reverse the effects of a CoolSculpting® session and create new fat deposits around the midsection.
If CoolSculpting® does not end up being an adequate solution, Dr. Shell offers other options, such as liposuction or abdominoplasty (tummy tuck). Patients who have undergone successful results with massive weight loss may find other alternatives designed for body contouring more favorable. As a board-certified plastic surgeon, Dr. Shell believes that it is his duty to ensure that the right aesthetic treatment is matched with his patient's aesthetic goals.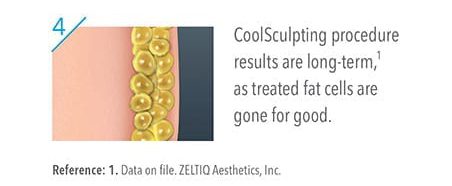 Will Insurance Cover CoolSculpting®?
CoolSculpting® is a cosmetic procedure, and most cosmetic procedures are not covered by insurance; however, there are many ways to finance your treatment. During your consultation, the experts at Shell Plastic Surgery will examine your medical background and take measurements to assess the amount of fat removal and the areas for which the fat will be taken. This will provide an estimate for your treatment, which can be considered when you speak with a financing company regarding your qualification and payment options. Once a choice is made with the company you finance with, we will work with you to schedule a convenient date for your CoolSculpting®.
How Is CoolSculpting® Performed?
CoolSculpting® treatment does not require anesthesia or sedation, allowing patients to drive themselves home after treatment.
Once the patient is comfortable, the external CoolSculpting® applicator is gently clamped to the skin, and controlled cooling penetrates the underlying fat cells of the targeted area. CoolSculpting® is unique in its ability to isolate treatment areas, ensuring that the surrounding cells and tissue are not affected or damaged by the cooling process.
The frozen fat cells will slowly be metabolized and processed from the body through the lymphatic system.
Patients often notice a significant reduction in the fatty appearance of their problem areas in two to four months, although results can show up sooner. Shell Plastic Surgery offers repeated CoolSculpting® treatments to maximize the effectiveness of the technique.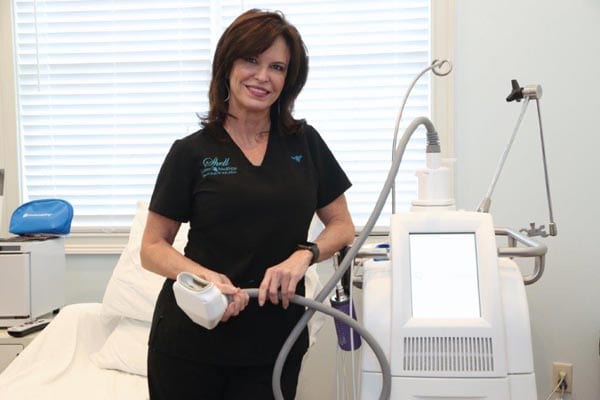 What Will My CoolSculpting® Recovery Be Like?
One of the greatest advantages of CoolSculpting® is its recovery process. With no downtime, CoolSculpting® has become one of the most convenient procedures to date. CoolSculpting® also offers zero restrictions to your physical activity after treatment. This ensures that patients can resume their normal routines and lift, pull, or push heavy objects without risk of any complications.
Some redness, tingling, itching, or temporary numbness may occur, but these side effects are usually minimal and will resolve quickly on their own.
What Will My CoolSculpting® Results Be Like?
You will likely witness more and more fat reduction in the weeks and months after your session as your body processes and removes the dead fat cells. As long as patients maintain healthy habits that stabilize their weight, the success of their results should not reverse.
Will I Need to Combine CoolSculpting® With Other Cosmetic Enhancements?
Some men and women who choose to undergo CoolSculpting® may benefit from additional surgical body contouring treatments to remove excess skin and further enhance their silhouette. These procedures may include a male breast reduction, body contouring surgery after major weight loss, or an arm lift.
Frequently Asked Questions About CoolSculpting®
Are there any risks associated with CoolSculpting®?

There are no significant risks with CoolSculpting® that do not resolve themselves over time.

Can pregnancy reverse CoolSculpting® results?

Pregnancy causes the production of additional fat cells and will most likely reverse the results of CoolSculpting®. As the body goes through continual changes during pregnancy, new fat will reshape your contours. CoolSculpting® is usually recommended after you have had all your children.

Why should I choose Shell Plastic Surgery for CoolSculpting®?

At Dr. Shell's practice, patient-oriented and personalized care are essential. Dr. Shell and his team have years of professional experience performing body contouring treatments like CoolSculpting® and will listen carefully to each of your cosmetic concerns and desires.
Interested in CoolSculpting® in Oxford, Mississippi?
If you are considering CoolSculpting®, the experts at Shell Plastic Surgery would be happy to sit down with you and carefully discuss each area of the body CoolSculpting® can be applied. Please fill out our contact form or call (662) 236-6465 to set up a consultation today.