Arm lift surgery, also known as brachioplasty, is a cosmetic procedure that removes excess skin from the upper arms. Often, as people age or lose weight, the skin underneath the arms starts to sag and hang, creating the appearance of a "bat wing." Exercise may improve the underlying muscle tone, but it cannot address skin that has lost its elasticity. Only a surgical intervention can eliminate unwanted, sagging skin.
Board-certified plastic surgeon Dr. Dan Shell performs arm lift surgery for men and women feeling insecure about excess skin or fat deposits in their upper arms. By performing this surgery, Dr. Shell can improve and sculpt the contour of your arms.
Am I an Arm Lift Candidate?
Good candidates for an arm lift are individuals who have lost a significant amount of weight or, through the natural aging process, have developed sagging skin under the arm. This is an invasive surgical procedure, so candidates should be at a healthy body weight and not smoke. This can increase the chances of complications after surgery and prolong the healing time.
Candidates for brachioplasty are looking to:
Reduce excess skin and fat on your underarm
Reshape the contour of your arm
Create a more toned appearance
Candidates need to accept some visible scarring on their underarm resulting from surgery. During your examination, Dr. Shell will determine if arm lift surgery is right for you based on your medical history, current medications, and aesthetic goals.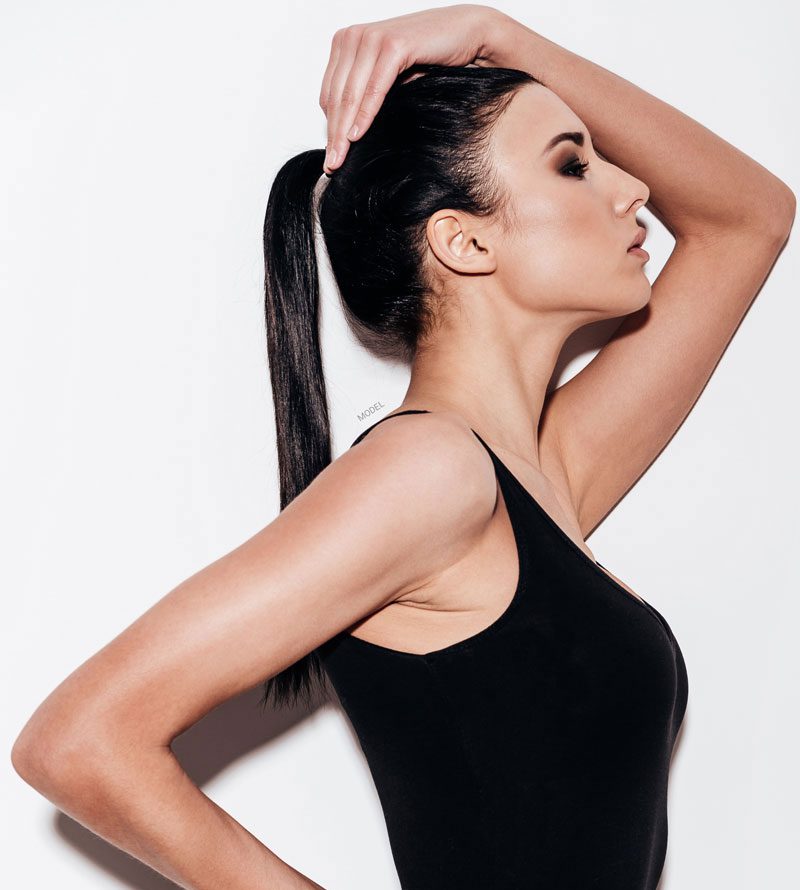 How Is Brachioplasty Performed?
Before your arm lift, you will need to complete preoperative tests to ensure you are in good health. These tests may include blood work, chest x-rays, and an electrocardiogram. 
Arm lift surgery begins with marking your arms where the incisions will be made, most commonly on the underside or back of the arms. The length of these incisions will depend on the extent of correction needed but can extend from the armpit to the elbow.
Arm lift surgery is an outpatient procedure performed under general or local anesthesia. A combination of liposuction and excision (removal by cutting) will be used to tighten and reshape the contour of your arms. Sutures will then be placed to close the incisions.
The procedure typically takes about three hours, and you will need someone to drive you home afterward.
How Much Does Arm Lift Surgery Cost?
Your arm lift is personalized to you. Therefore, the final cost of your brachioplasty will depend on the extent of correction and any additional procedures being performed in combination. Additional cost factors include anesthesia, surgeon, and facility fees.
Will Insurance Cover My Arm Lift?
Arm lift surgery is an elective cosmetic procedure, and it is unlikely that insurance will cover the cost. If the excess skin is causing additional physical problems, there may be a chance that your insurance may contribute. You will want to reach out to your provider before surgery to discuss your options. 
Dr. Shell offers financing options to help you cover the cost of your arm lift.
What Is an Arm Lift Recovery Like?
Following your brachioplasty, you will need to wear compression garments on your arms to reduce swelling and protect the incisions. You may also have a temporary drainage tube in each arm to remove the blood and fluid build-up after surgery. Arm mobility will be limited during recovery, and Dr. Shell may prescribe pain medication to help you manage discomfort.
Be sure to follow all the aftercare instructions, including when to change the dressings, what to eat, and when you can return to normal activities. Be sure to attend all follow-up appointments.
Most people can resume work and normal daily activities within a couple of weeks; however, certain types of exercise, including weight lifting, should be avoided until your surgeon has cleared you for these activities.
The recovery period can vary but typically lasts two to four weeks.
Are There Any Risks Associated With Brachioplasty?
As with any surgical procedure, there are risks associated with an arm lift. Dr. Shell will discuss these potential risks with you in detail. Some complications may include infection, adverse reaction to anesthesia, excessive bleeding, fluid accumulation, or unwanted scarring.
What Results Can I Expect From Brachioplasty?
Everyone's body is different, and the results you can expect will depend on how much tissue is removed and the general muscle tone of your upper arms. For the best results, follow the discharge instructions from your surgeons and the aftercare prescribed for you.
Your arm lift results will be long lasting, but an arm lift cannot prevent the natural aging process. Over time, the skin on your upper arms may again begin to change and lose elasticity. If you remain active and maintain a stable weight, the results of your arm lift should be relatively permanent.
Why Should You Choose Dr. Shell for Your Arm Lift in Oxford, MS?
During your consultation, Dr. Shell will listen carefully to your concerns, ensuring that all treatments are customized to meet your goals. He uses the latest technology in a comfortable and confidential setting. Dr. Shell is certified by the American Board of Plastic Surgery and the American Board of Surgery. He is a member of the American Society of Plastic Surgeons, the American Society for Aesthetic Plastic Surgery, the Southeastern Society of Plastic and Reconstructive Surgeons, and is a Fellow of the American College of Surgeons.
If you think you are a good candidate for an arm lift, we'd love to discuss the procedure with you. Give us a call at (662) 236-6465 or visit us online to schedule a personal consultation.