LATISSE
Do you have fine or wispy lashes and would wish to make them more noticeable?
Many people love the look of long, full lashes but may want to avoid using extensions and false eyelashes to obtain the look. Fortunately, achieving long, lush, voluminous, and natural-looking eyelashes is all possible, thanks to LATISSE®.
The FDA-approved prescription treatment, which goes under the medical name "bimatoprost ophthalmic solution," increases eyelashes growth in terms of length, thickness, and darkness.
Having full lashes not only brings out the allure of your eyes but could be what you need to help you feel and look your best.
Am I a Candidate for LATISSE®?
LATISSE® is the ideal eyelash enhancement treatment for anyone who feels self-conscious about their thinning, scanty lashes. If you value beauty and are looking for a natural and safe way to achieve fuller lashes without any attachments or surgeries, this treatment is for you.
While we all want longer and fuller lashes, the treatment is not ideal for everyone. The best candidates should be in good physical and emotional health and have realistic expectations of the treatment's outcome. A consultation with a cosmetic expert like Dr. Shell can help determine if you are a suitable candidate for LATISSE®.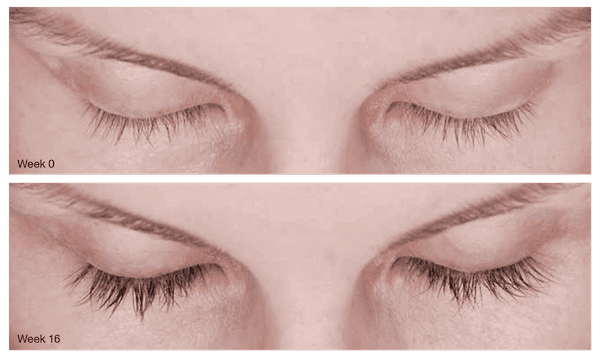 Before and afters provided by Allergan.
How Is the LATISSE® Treatment Administered?
LATISSE® is only available by prescription and is applied at home by dabbing it along the upper lash line using the provided brush applicators. Typically, the product works on viable hair follicles by stimulating the growth of hairs and increasing the duration of the anagen (growth phase).
The serum should be used as part of your nightly routine, with strict adherence to the provided instructions to ensure you apply it correctly.
To reach full potential, patients are advised to use the medication daily for the first two months or continue to week 16 if not satisfied with the growth progress.
You will also be required to continue using LATISSE® during the maintenance phase to keep the lashes thick and long. Total discontinuation of the product will make your lashes return to their original state.
What Can I Expect During LATISSE® Recovery?
Once you begin the treatment, you will notice gradual improvement and visible changes in your lashes' length, thickness, and darkness. While the technique is fast and painless, some patients may experience irritation, redness, skin darkening, and dryness after using LATISSE®.
However, the side effects seem to dissipate as the user becomes accustomed to the product or as they learn to apply the product properly.
What Results Can I Expect From LATISSE®?
Full results are expected from week four through week 16. Most users experience real, measurable eyelash growth that makes their eyes pop and more appealing. In clinical studies, participants experienced significant changes after treatment with LATISSE®. On average, lashes were 25 percent longer, 106 percent fuller, and 18 percent darker.
Frequently Asked Questions About LATISSE®
There are numerous factors to consider before committing to any cosmetic treatment. Below is a list of frequently asked questions associated with Latisse:
---
How do I use LATISSE®?

LATISSE® is a prescription medication that you will apply on your own at home. Before application, your face should be cleansed, and your contacts should be removed. Using a sterile brush applicator, you will need to apply LATISSE® to your upper lash lines on a nightly basis.

LATISSE® should not be applied to the lower lashes. Applicators are disposable, and you should discard them after each use.

Are the results permanent?

Sustained use of LATISSE® is necessary to maintain results. After three or four months of regular treatment, Dr. Shell may recommend that you alter your treatment schedule to every two days rather than nightly to maintain results.

Why should I choose Dr. Shell for LATISSE®?

During your consultation, Dr. Shell will listen carefully to your concerns, ensuring that all treatments are customized to meet your goals. His practice uses the latest technology in a comfortable and confidential setting. Dr. Shell is certified by the American Board of Plastic Surgery and the American Society of Aesthetic Plastic Surgery. He is also a member of the American Society of Plastic Surgeons and a Fellow of the American College of Surgeons.

What other non-surgical treatments are available at Shell Plastic Surgery?

If you are looking for other ways to maintain or restore your youthful, beautiful facial contours, consider one of our many non-surgical treatment options. These include:
Interested in LATISSE® in Oxford, MS?
If you are concerned about the appearance of your eyelashes and would like to discover more about the benefits of LATISSE®, do not hesitate to get in touch with us.
Call at 662-236-6465 or fill out our online contact form to schedule your appointment with Dr. Shell. Let us help you take your lashes to the next level.