SKIN RESURFACING IN OXFORD
Throughout life, your skin goes through a lot. By the time you reach your thirties or forties, you're left with sun spots, scars, fine lines and rough patches–all showing your many years of experience, and then some. Skin resurfacing treatments have become a popular option for shaking off that dull and aged top layer of skin to reveal a younger, brighter-looking you. Shell Laser MedSpa now offers HydraFacial resurfacing—a revolutionary and award-winning non-surgical treatment, which is administered by our licensed aestheticians, Anna Thames and Kayla Fisher.
IS A HYDRAFACIAL RIGHT FOR ME?
Unlike laser resurfacing treatments, the HydraFacial uses an advanced combination of skin-boosting benefits to dramatically improve the look and feel of your skin.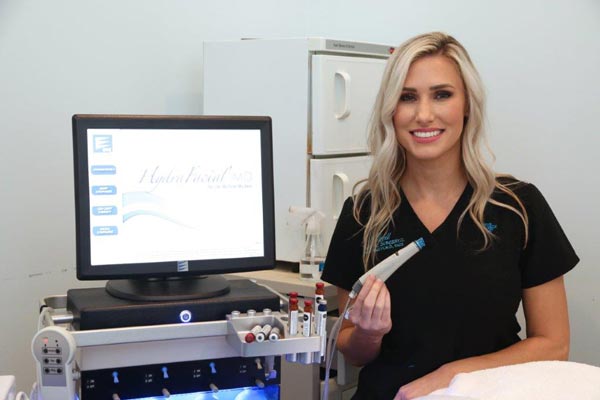 HOW DOES A HYDRAFACIAL WORK?
The HydraFacial treats your skin to five important steps–it cleanses, exfoliates, extracts, hydrates, and protects with antioxidants. The end result is an even complexion, softer skin, and an overall younger appearance. A HydraFacial can be used to treat common skincare concerns including:
Fine lines and wrinkles
Clogged or large pores
Oily skin
Acne prone skin
Hyperpigmentation
Sun damage
Discoloration
Our Licensed Aestheticians will work with you to create the most effective HydraFacial treatment plan in order to provide you with your best possible results.
HYDRAFACIAL RESULTS AND RECOVERY
A HydraFacial with Anna will typically last about an hour. We will begin by using the HydraPeel tip to exfoliate dead skin cells near the surface and remove impurities. The HydraFacial simultaneously cleanses and moisturizes your skin before antioxidant serums are delivered to soften and protect your skin.
There is no downtime following a HydraFacial treatment. Most patients will benefit from a series of treatments to achieve their best results, although you should notice an improvement in the look of your skin after just one session. To maintain that look, consider undergoing regular HydraFacial treatments, or supplement your HydraFacial with other non-surgical options.
HYDRAFACIAL IN OXFORD
Call our office to schedule your HydraFacial consultation with one of our licensed aestheticians, Anna Thames or Kayla Fisher.